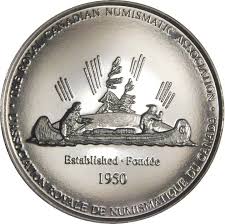 October 17, 2020, during the Royal Canadian Numismatic Association (RCNA) 'General Annual Meeting', as mandated in Canadian corporate law, via ZOOM and Smart-Phone, these two were recognized:
ALEXANDER B. 'Xan' CHAMBERLAIN, a 'President's Award', for his generosity and enthusiasm for our hobby, and
MICHAEL S. TURRINI, a 'President's Award'
There were other numerous recipients; three of whom, the above two plus CLIFFORD L. MISHLER, are well-known in our Golden State.
CONGRATULATION! Outstanding!