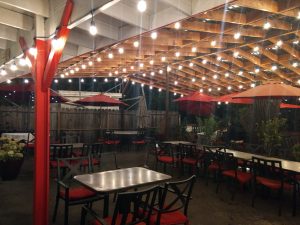 We are set for a wonderful banquet Sun, Oct 18. The smoke had cleared but is now back temporarily. The forecast shows the air is expected to clear Oct 7.
It has been confirmed that there will be plenty of warmth with lots of tall heat lamps and ample lighting with illumination from LED string lights above and candles and table lanterns on each table to be able to comfortably read Bingo cards.  In addition, the restaurant has recently installed brand-new clear water-tight tile roofing installed above our back-patio area in case of rain. You can see this new roofing in the picture below.
There is a new Take-Out option for members who feel it best to participate remotely in the interest of their health. This option gets you the exclusive, coveted annual banquet chip! You can select the time you want to pick up your To-Go meal. Just use the attached banquet order form, writing "Take-Out" somewhere visible and the pick-up time you will be picking your meal(s) up at Palermo on Oct 18. PLEASE PROVIDE your PHONE NUMBER IN CASE we or the restaurant have QUESTIONS about your TAKE-OUT order. Your order will be placed by the Banquet Chair with the restaurant along with the clubs' orders.
As a reminder, or for new attendees to the banquet, we will be passing out a lot of awards. We appreciate our members and their selfless contribution of time and energy to club activities. We will have two guessing games (one with coins and one with candy), five rounds of Bingo, and one final round of Bingo Black-out with outstanding prizes (American Silver Eagles and a special Black-out grand prize)! Members may bring a guest at the same discounted meal rate as their own. Additional guests are welcome for an additional $10 per meal.
We look forward to seeing everyone in person! It will be a fun night with a delicious meal and excellent company at a top-notch local restaurant. Mail your Banquet Order Form in TODAY with your payment. For PayPal payments, send an email, NOT a payment to this address: cupertinocoinclub@gmail.com, and we will reply with the appropriate PayPal email address. For questions, please email the President at cupertinocoinclub@gmail.com. Thank you. Ciao!