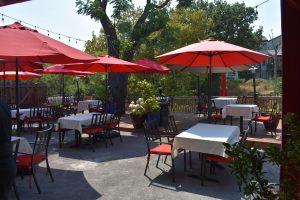 Cupertino Coin Club will be holding our 2020 banquet for members and their guest(s) this year at Palermo in San Jose on Sunday, September, 20, 5:00 – 9:00 pm.
This is our 50th year as a club! Our usual banquet venue, The Blue Pheasant is currently closed. We found this lovely Italian restaurant with its four separate outdoor patios, delicious food, and ambiance overlooking Los Gatos Creek. We have reserved a private, shaded patio all to ourselves. The restaurant is centrally located with easy access from the freeway. All pandemic safety precautions will be made as mandated by the County of Santa Clara. Tables of six will be safely spaced apart from one another per County Orders. Servers will be wearing face coverings and gloves. Guests, except the very young or those for whom it is medically inadvisable, must wear face coverings at all times except while eating or drinking.
Four complete meal choices of Lasagne Meat Sauce, Chicken Parmigiana, Grilled Wild Salmon, or Veal Piccata are being offered. Each dinner includes a fresh green garden salad, bread & butter, coffee or tea, and a house-made dessert. Cupertino Coin Club is subsidizing $10 of each meal, bringing the restaurant's prices down from $39 and $45. Your prices will be $29 for Lasagna, Chicken, or Salmon, and $35 for Veal. These prices are inclusive of all taxes and gratuities. Attendees will receive an exclusive free 2020 Banquet Chip for the first 48 people who sign up or a free Club Medal after the initial 48.
The evening will begin at 5:00 pm for Social Hour, drinks, and guessing games. Dinner will begin at 6:00 pm. Following dessert, Awards and President's Thank You gifts will be presented. Lastly, we will conclude with the results of guessing games and play some Bingo for prizes.
RSVP – We ask that you submit your reservation to the Banquet Chair by sending in your payment with order form by Wednesday, September 16. (This is the last date we will check the PO Box before the banquet.) We will take PayPal electronic payments if you email your Banquet Order Form to cupertinocoinclub@gmail.com. We will respond with PayPal instructions. (There is no charge to use PayPal.) We look forward to seeing you there and having a wonderful evening. Ciao!
Link to order form:
https://drive.google.com/file/d/1c-Fyny8fstiBmeWJW7b2_gb4geO1GOES/view?usp=sharing