CUPERTINO COIN CLUB'S COIN SHOW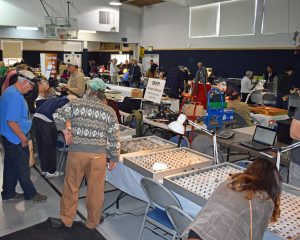 Our 2020 one-day show was a fabulous success! Thank you to everyone who participated in it! Due to the pandemic, we were not able to have a show in 2021 and are targetting our next show for early to mid-2022. Stay tuned for updates.
BUY,  SELL, or TRADE your old or rare Gold, Silver and Platinum – Coins, Jewelry, Medals, Tokens and Money at the 2022 Cupertino Coin Club Coin Show. We are currently planning our next show. It will return to St. Joseph's Church in Cupertino.  Show hours will be 10:00AM to 5:00PM. There will be over 40 sellers again! Free Appraisals!
Admission is $3 for adults with 17 and under Free.
Free Parking.
Come and buy, sell, or trade coins, other numismatic items, jewelry and other collectibles.
Bourse Chairmen Contact:
Ken Barr
(408)272-3247
Ken@KenBarr.com
——or——
Bourse Chairman:
Bruce Braga
cell (408) 839-1883
BruceBraga1@AIM.com
Bourse Chairman
C/O Cupertino Coin Club
P.O. Box 448
Cupertino, CA 95015-0448
Show chairman:
Brian Daniels
email: CupertinoCoinClub@gmail.com
2022 Bourse Application and Dealer Letter
Hurry! Early bird pricing on bourse tables ends xx/xx/2022.