CUPERTINO COIN CLUB'S 2020 COIN SHOW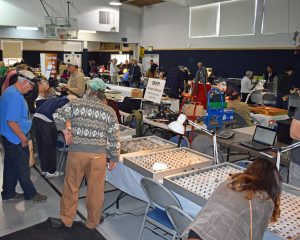 ONE DAY ONLY!
BUY,  SELL, or TRADE your old or rare Gold, Silver and Platinum – Coins, Jewelry, Medals, Tokens and Money at the 2020 Cupertino Coin Club Coin Show on Sunday, February 16, 2020 at St. Joseph's Church in Cupertino.  Show hours are 10:00AM to 5:00PM. There will be over 40 sellers! Free Appraisals!
Admission is $2 for adults with 17 and under Free.
Plenty of Free Parking.
Come and buy, sell, or trade coins, other numismatic items, jewelry and other collectibles.
Bourse Chairman Contact:
Bruce Braga
cell (408) 839-1883
BruceBraga1@AIM.com
Bourse Chairman
C/O Cupertino Coin Club
P.O. Box 448
Cupertino, CA 95015-0448
Show chairman:
Al Lo
CCC Show Chairman
email: ALLOSJ@cs.com
Hurry! Early bird pricing on bourse tables ends 12/31/2019.