CUPERTINO COIN CLUB'S COIN SHOW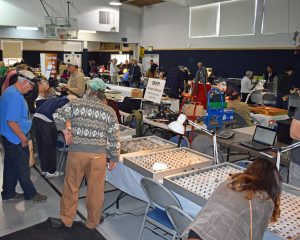 Thank you for supporting our 2023 Coin Show!
BUY,  SELL, or TRADE your old or rare Gold, Silver and Platinum – Coins, Jewelry, Medals, Tokens and Money at the 2024 Cupertino Coin Club Coin Show. We are currently planning our next show, tentatively scheduled for Sunday, April 7, 2024. It will be at St Joseph of Cupertino Parish in Cupertino again, 10110 N De Anza Blvd.  Show hours will be 10:00AM to 5:00PM. Free Appraisals!
Admission is $3 for adults with 17 and under Free.
Free Parking.
Come and buy, sell, or trade coins, other numismatic items, jewelry and other collectibles.
Dealers Setting up at this Show:
(Stay tuned!)
Bourse Chairmen Contact:
Bruce Braga
cell (408) 839-1883
BruceBraga1@AIM.com

Mailing Address:
Bourse Chairman
C/O Cupertino Coin Club
P.O. Box 448
Cupertino, CA 95015-0448
Show Chairman:
Mike Wagner
cell (669)295-5543
email: mikejwagner@outlook.com
2024 Bourse Application and Dealer Letter
Hurry! Early bird pricing on bourse tables ends 02/4/2024.