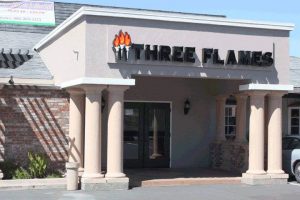 Cupertino Coin Club members and their guests are invited to join fellow coin club members for a wonderful evening out for in-person socializing, a special meal, games including guessing and BINGO, awards, and recognition on Sunday, October 24, 2021, starting at 5:00 pm, at Three Flames Restaurant on Meridian Ave. in the Willow Glen neighborhood of San Jose. The restaurant is easily
accessible from the Hamilton Ave exit off of Highway 17/880. Dinner options
include a generous 16-oz. Prime Rib, Chicken Parmasean, Tilapia, and
Pasta Rose. See the banquet order form below or attached to your September newsletter for a full description of each dish. All meals, including To-Go orders,
are complete and include a house salad, bread & butter, seasonal
vegetables, oven-roasted red potatoes, tea, coffee, lemonade, or soft
drinks, and dessert. (Drinks not included with To-Go orders.) Remote-access attendees will be able to participate in the awards portion of the program via Zoom if requested. We will be in a private mid-sized banquet room. All restaurant staff are fully vaccinated and wear masks. Registration for this event must be received by October 14, 2021. We look forward to seeing you at this fun event!
Click here for the Reservation Form