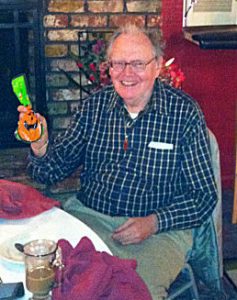 It is with great sadness that we report the loss of Cupertino Coin Club's Life Member, Dan Shattuc, who passed away October 31, 2020. Dan had been an active member of our club since 1976. Below is a heartfelt eulogy written by Michael Turrini.
'Dan' Shattuc: Green Beret, Naturalist, Waterfowl Supporter, and Avid Coin Hobbyist
As is so common nowadays in our universal hobby which ages with each year, the email sadly reported that Daniel O. Shattuc, of Sunnyvale, California, had passed away.
While 'Dan' had been enduring poor health and assisted care for recent years, he was once an active advocate for our hobby spanning forty-plus years, serving in positions in the Cupertino Coin Club, the Liberty Numismatic Society, the Peninsula Coin Club, the San Jose Coin Club, all of California, plus the California State Numismatic Association (CSNA). He was an intense booster of youth activities, and in 1985, he chaired National Coin Week for California, driving many miles and having long late evenings, visiting local coin clubs promoting the Week and our hobby.
'Dan' was a diverse hobbyist, enjoying much. In a 'Coin Celebrant' interview and photograph published in the October 10, 2006 NUMISMATIC NEWS, smiling with his brother 'Bill', he held his new acquisition: an Indian Peace Medal. Being an Oregonian by birth, he had a passion for Oregon 1959 Centennial tokens and 'Good For' plus for as well anything for Lewis and Clark.
His lifelong enjoyment of our hobby could be traced to a 1949 visit by his family to San Francisco, California, from their home in Oregon. His Mother somehow arranged an inside tour for her then youthful son of the San Francisco Mint. Decades later, 'Dan' would lead young future hobbyists with tours of the now closed The Granite Lady.
'Dan' was a Green Beret, an Eagle Scout, and loved the outdoors. This eulogist remembers his efforts with Scouts and young people to create habitats for wood ducks around the San Francisco Bay Area. He would talk proudly of their efforts. Speaking of military service, he was always proud of seeing and meeting John F. Kennedy in person, twice.
For numismatics, he gave the same passion. Once during a now long-gone Northern California Numismatic Association (NCNA) then famous 'Jar Tar Hotel' Shows, his auction catalog was found by me, misplaced near the registration entry; it was filled with copious handwritten notes: marks for certain lots, estimates, calculations, intended bids, and descriptions underlined. His diversity and his knowledge were quite evident.
'Dan's' greatest service was to instill with the Cupertino Coin Club the importance and emphasis of 'youth numismatics'. His sincere and sure comments in the 2006 'Coin Celebrant' confirm his devotion for our hobby's tomorrows.
Our hobby is and has been blessed by many who create an enduring legacy and standard for service with service over self. 'Dan' exemplified that trait. He, as like so many countless others, paved the way for us today and those tomorrow.
Closing, let me end with this quotation: "Immortality Is To Live Life Doing Good, and Leave Your Mark Behind." 'Dan' achieved that.
Michael S. Turrini
Vallejo, California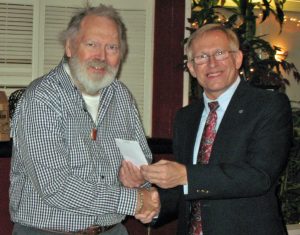 Dan with past President, Emile, at a previous annual club banquet