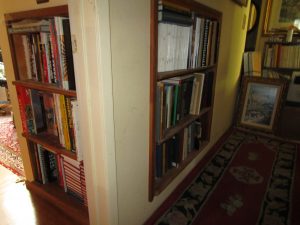 By Keith S.
About eight years ago I salvaged over 1,000 pounds of wide, thick, and old oak flooring. I built a wall unit 11 feet wide and floor to ceiling with a cabinet below and a huge drawer for office supplies. All the time thinking of the pictures of library ladders, circular staircases, beautiful wood and artwork.
Not to forget the books themselves.
Filling it was satisfying until I realized there wasn't enough room. I added six more small shelf units that were embedded into walls and behind doors or out of the way areas. These are in non-loadbearing, interior walls 16 inches above floor level and don't interfere with electrical outlets. Shelf length is 18 to 32 inches, each unit is seven to 15 feet of total shelf length, and depth is 9 inches. Still not enough space!
I started watching a series on TV called Hoarders and about the same time I cleaned out an entire house by myself. It was obvious that something had to go. Over 400 pounds of numismatic catalogues, and over 35 years of National Geographic (saved the maps and 8 issues total). Brought them to coin shows with the famous FREE sign. All disappeared. Architectural Digest, Byte, and a number of building journals were next and still being processed. Even the Numismatic was targeted after extracting select pages.
They too will go to coin club meetings and shows.
Including a 19th-century library table and two other shelves there is nearly 240 feet of total shelf length. A few short shelves exist for coffee table books to lie horizontal (such as The Complete Far Side with slipcase). After all the effort the numismatic part is nearly distilled and ordered by category, age, and those with special storage needs. Total shelf length is nearly 40 feet and includes those pesky ancient history books. Nothing is left on the floor – piles not allowed.
I work with the Friends of the Library and can process over a ton of books for a sale in less than four hours (window shopping all the time).
Books Anonymous anyone?